Reposted from timeout.com
Date: September 24, 2020
UPDATE, September 2020: Every time we editors look at our list of the best coffee in Montreal, it's a time for self-reflection and reminding ourselves that it's time to resume the hunt for the finest cups around. We've made a few small additions to recognize new sister locations from some of our established favourites, and we've added seven new cafés to our list—all of whom are pouring, pressing, filtering, and percolating truly phenomenal coffees.
Enjoying the best coffee in Montreal can be so many things: As one of the simpler pleasures among the best cheap things to do in Montreal, they can be enjoyed in a café, part of a great breakfast with the best croissants or goods from the best bakeries, or taken to go and savoured in one of many Montreal parks. The city's huge student, freelancer, and tech startup populations have given rise to an equally huge number of coffee shops to choose from, but it can be tough knowing which shops are the cream of the crop. Lucky you: We've already done all the work and gotten thoroughly wired in all the fourth-wave cafés, micro-roasters, and euro coffee bars on the island so you skip the places that ain't worth the trip.
RECOMMENDED: Full guide to the best restaurants in Montreal
Best coffee in Montreal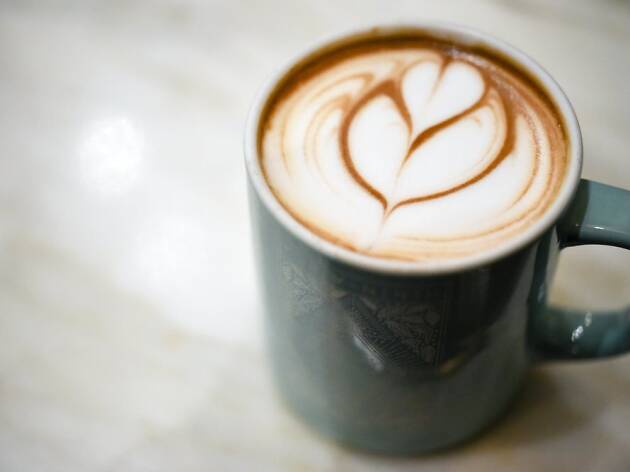 Photograph: Courtesy Yelp/Ames L.
Chefs like Chuck Hughes and the Joe Beef crew are among a chorus of local tastemakers to sing praises of Myriade. With three locations across the city—the ritziest of which is hidden sous-sol at the Club Monaco on Ste. Catherine downtown—this local chain was one of the first to kick off the city's craft coffee scene. Helmed by champion barista Anthony Benda, blends from top Canadian roaster 49th Parallel are brewed on a Mirage Triplette and served alongside pastries from independent bakeries.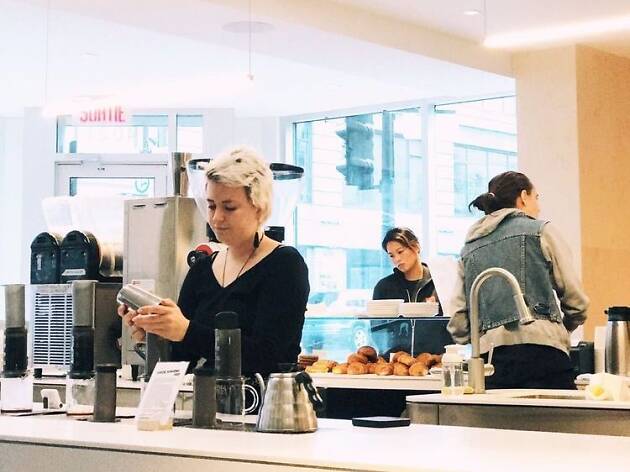 Photograph: Courtesy Yelp/Chrissy V.
What started as a café-on-wheels is now a multi-location café brand and brûlerie (roaster) with sustainably sourced beans that are now being dispatched across the country. Coffee connoisseurs should stop by the St. Laurent location's long, Apple Genius Bar-inspired counter where baristas are more than happy to talk shop. Keep an eye on the event calendar, which often includes cuppings; that's café-speak for tastings, and workshops on brewing techniques for everything from the Chemex and Clever Dripper to the V60 and Aeropress.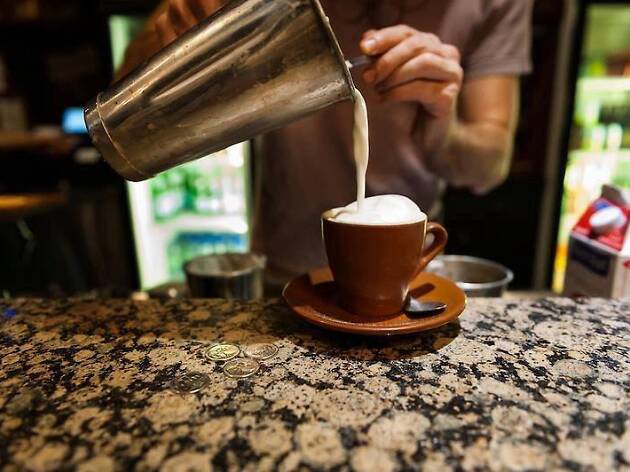 Photograph: Courtesy Café Olimpico
A Mile End haunt since the 1970s, this old-school Italian café serves up classic espressos and cappuccinos to a mix of soccer fans, Ubisoft developers, local literati and café habitués. Unlike most cafés in the city, this one's open day and night. Devotees will tell you the secret Furfaro family blend is a cut above Lavazza and illy roasts, but the large outdoor terrace, soccer screenings and unpretentious vibe also play into the café's popularity.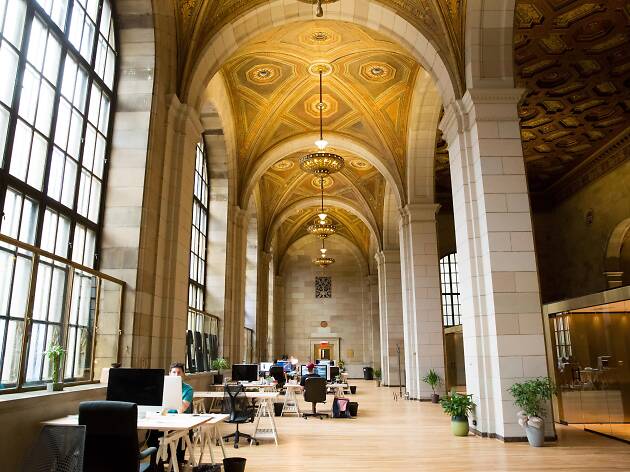 Photograph: Susan Moss
4. Crew Collective & Café
A grand marble staircase ushers visitors into this café and co-working space, which has assumed quarters in the former command post of the Royal Bank of Canada in Old Montreal. Neoclassical ornate meets startup sleek as teleworkers charge up at Wi-Fi and outlet-equipped stations with Dispatch and Traffic Coffee Club brews under brass chandeliers and 50-foot-tall vaulted ceilings. Come for the mobile made-to-order drips, espressos and house-made tea elixirs, stay for the old-world opulence.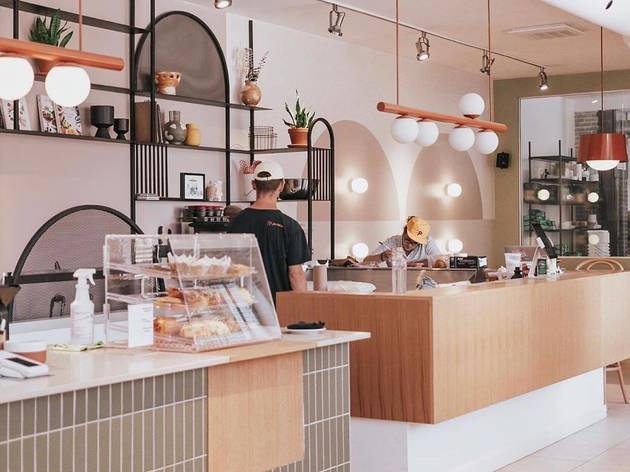 Photograph: @kentsujimoto
What started as a café on a bike serving cups on the street, there are now four locations that include neighbourhood cafés, its own spot for roasting in the city and a coffee laboratory for equipment, tastings and tests. That said: It goes without saying that anything under the Pista name is a coffee geek's paradise. Running roasts that are carefully sourced—plus a couple choice blends of their own creation—and serving them up any which way a caffeine junkie could want, their locations' sleek design from the Montreal firm mpgmb are just a pure plus for whiling away days.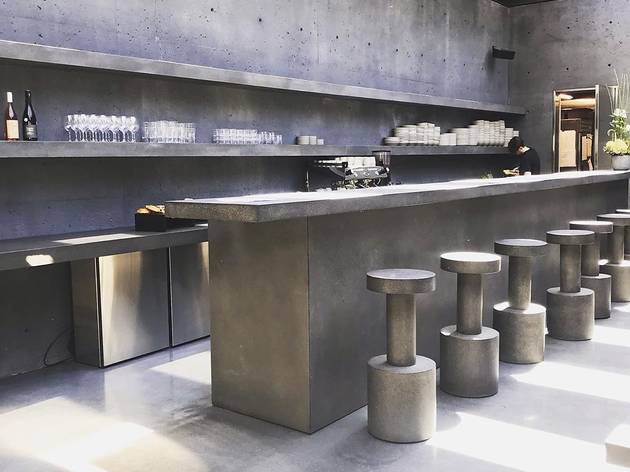 Photograph: @chevalreal / Instagram
It's an unlikely spot, but Ssense Café is hidden away on the fifth floor of the high-end Montreal fashion retailer's Old Port flagship boutique. The decor is equal parts brutalist theme park and Apple's 1984 Super Bowl commercial, but it's starkly beautiful and surprisingly inviting. Atmosphere aside, Ssense Café offers an inspired coffee and cold-pressed drink selection as well as a very solid market-driven menu. Cloistered away, though it may be, this shop is much more than a high fashion afterthought and is worth the detour.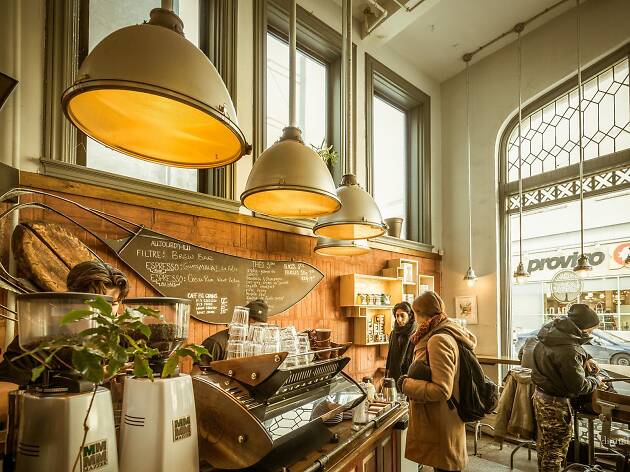 Photograph: Richard Baghdadlian
Located in a heritage building around the corner from the McGill Ghetto, this piccolo-sized café is packed to its rafters with interior charm and wafts of Canadian roasts from Phil & Sebastian and Microtorrefacteur Saint-Henri. Tall windows, low-hanging industrial lamps, and intricate woodwork are found everywhere; even the espresso machine has timber panels, creating a cozy milieu for bookworms and coffee buffs. Order the signature Pikolo, a demitasse-sized cross between a ristretto shot and a silky latte, and enjoy pastries supplied by Hof Kelsten and Godley Gourmandises.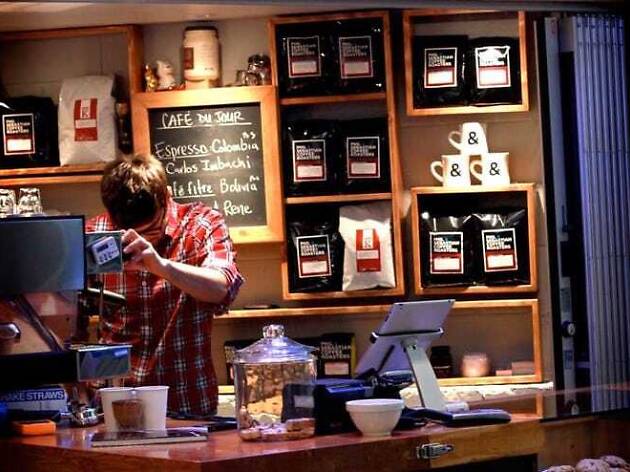 Photograph: Courtesy Yelp/Tunnel Espresso Bar
Stationed in the Cathcart passageway section of the subterranean network of Montreal's Underground City—specifically in-between the Eaton Centre and Place Ville Marie—this third-wave stand-up bar is a hidden hotspot. Look for the their blue neon sign, which serves as a light at the end of the tunnel for the business district shirts and ties in need of their daily java jolt. An app is also available for those who need their fix on the go. Lattes are popular, but the cortados and mistos are just as good, and all made with organic, fair-trade, micro-roasted beans.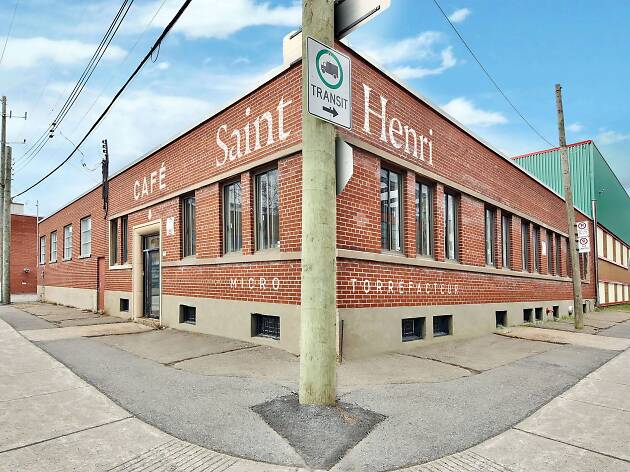 Photograph: Courtesy Café Saint-Henri
With new industrial-sized headquarters near Jarry Park and satellite cafés dotted across the city, this pioneer of Quebec's micro-roastery scene continues to expand well beyond its original neighborhood's boundaries. Since you'll find Saint-Henri's roasts in many Montreal cafés, often brewed by alum from their in-depth barista training program, why not go straight to the source for an allongé amidst aficionados? The HQ includes a coffee lab, classroom, state-of-art café bar, greenhouses and on-site roastery.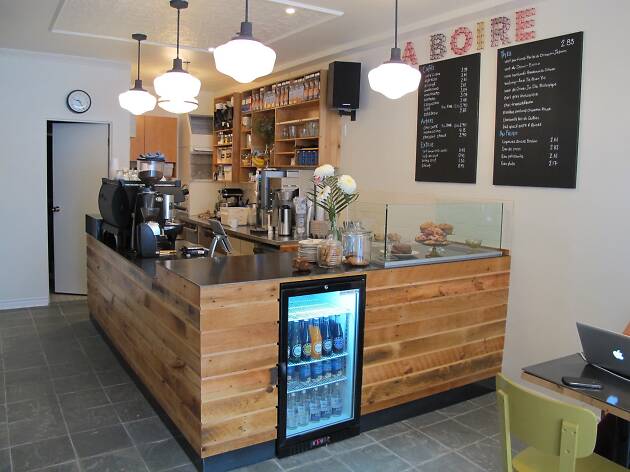 Photograph: MELK Bar à Café
This café comes with two locations, one of which is tucked in a corner of the old Victoria arena where the first Stanley Cup was won by the Montreal Canadians. That means patrons can now choose between coffee alfresco on the roomy terrace of the original location, or a mugful with a hint of hockey novelty. The Prufrock College-trained couple behind this Monkland Village mainstay are just as well known for their home-baked sweets and latte art as they are for quality craft coffee.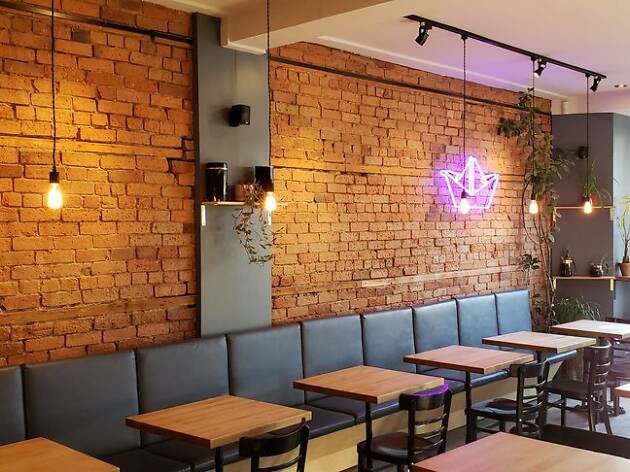 Photograph: Courtesy Yelp/Paquebot
Beyond being first to serve Montrealers the nitro cold brew, Paquebot's menu boldly ventures into fresh territory with café-infused cocktails and other concoctions. With abundant greenery, exposed brick and walls of records, all three of this café's locations give off chill hangout vibes and serve specialty beans from east-end roaster Zab. We recommend that you cool down in the summer with the Titonic, an epic mix of cold brew, homemade tonic, rhubarb bitters and lemon juice. Keep an eye out for the cold-brew trike, which makes the rounds across the Rosemont-La Petite-Patrie part of town.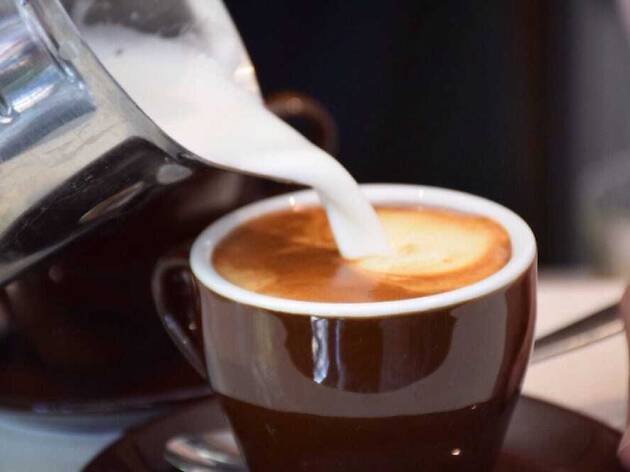 Photograph: Courtesy Yelp/Latef X.
Since 1979, this Little Italy institution has been the place for classic Italian espressos, freddos (iced coffee) and famously creamy cappuccinos. A laidback social club crowd spills out onto the patio when weather permits, all with cappuccinos and ricotta gelato in hand, with an intensified electricity come World Cup or Grand Prix season. Don't expect frills like almond milk, Wi-Fi or even a debit machine here, save for a chocolate pump that drizzles hot Nutella over berries, biscotti, bomboloni and other dolce treats.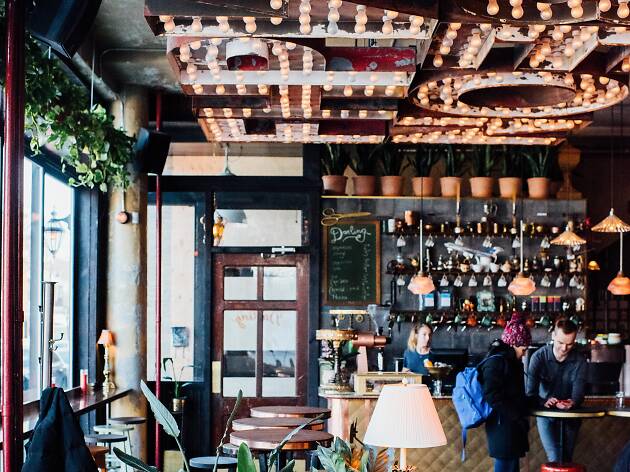 Photograph: Alison Slattery
It didn't take long for this café-by-day and resto-bar-by-night become a regular Little Portugal neighborhood hangout, thanks especially to its hours and its 150-seat capacity. A little bit steampunk and a little art deco, this brasserie-style space serves ambiance alongside cafés and lattés brewed with Toronto's Pilot Coffee Roasters' beans in addition to ciders, craft beers, and wines. Brunch here features a smorgasbord of open-faced smørrebrød sandwiches with fixings like beef tartare, mackerel, or salmon. Sink into a St. Laurent-facing tufted leather sofa with a plan to linger.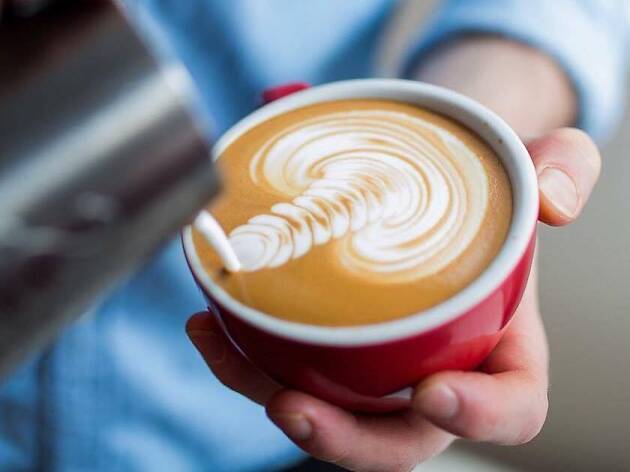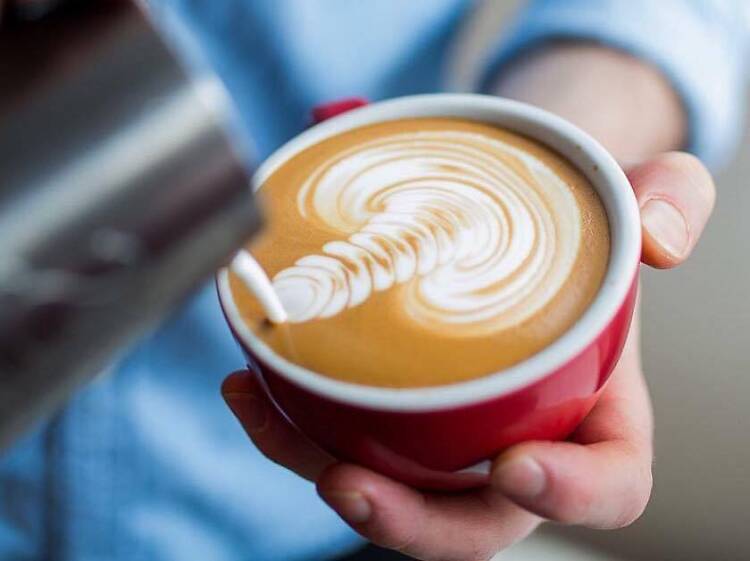 Photograph: Courtesy Caffè in Gamba
This Mile End institution serves Italian tradition with a modern twist. Think organic beans from Intelligentsia and 49th Parallel pulled on a 1960s-era Faema E61 espresso machine. As an early arriver to the city's craft coffee scene, Gamba's cultivated a devoted legion of café habituées that spill out onto their Parc Avenue terrace be it rain or shine. Caffè in Gamba is the sole establishment in la belle province to pull and sell blends from cult favorite Counter Culture Coffee, and is one of the city's hotspots to sample the award-winning work of baristas in categories like latté art.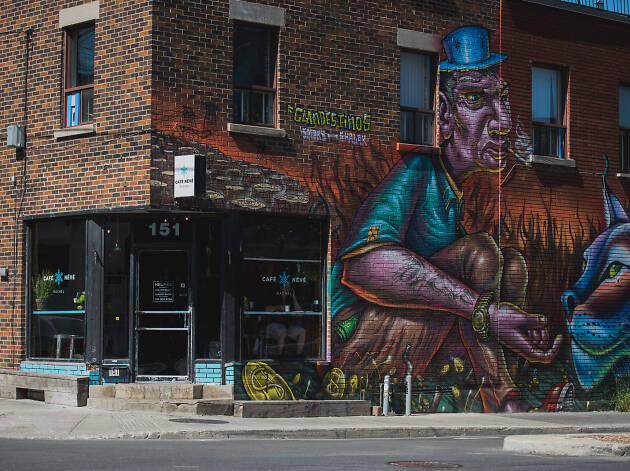 Photograph: Alison Slattery
With a snowflake for a logo and steamy late-night winter windows, Café Névé is synonymous with cozy. Both the original corner post on Rachel and the 500-square-foot nook on Mont-Royal are snug spots to hunker down with a laptop, latté, and a fresh-out-of-the-oven scone. A filtered mugful here is brewed from a Canadian-heavy slate of roasters. There's always something new for the sweet-toothed patron as well, from Nutella lattes to new chewy cookies. Cold brews and branded keep-cups are available now, too.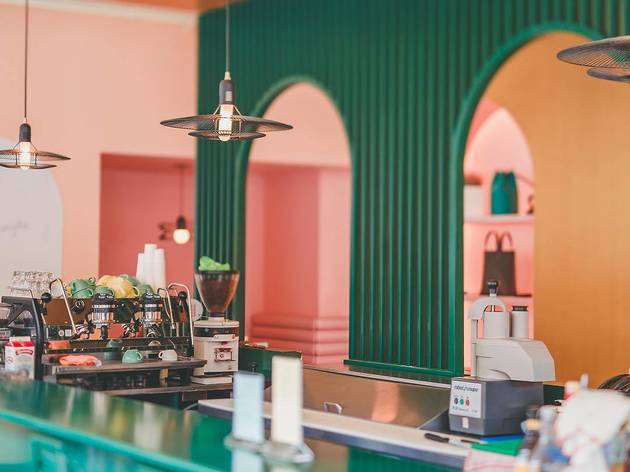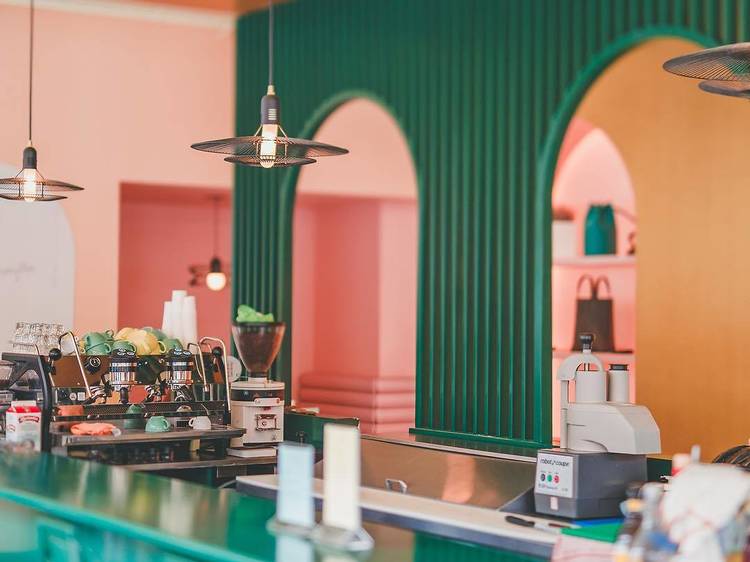 Photograph: Pastel Rita / @cafepastelrita
There's a lot going on in the Mile End multipurpose space, but rather than being a hectic mess, the space is warm and impossibly soothing. Pastel Rita is comprised of three separate segments: a boutique, an art workshop, and the café itself, which serves coffees, natural wines, and a surprisingly ambitious menu. These segments are all coloured and subtly demarcated from each other with fields of green, pink, gold and white. This expressive decor results in a truly unique space in which to enjoy a coffee, a glass of wine, or a bite to eat— and it serves as a fitting representation of all the creative forces working in harmony within the space.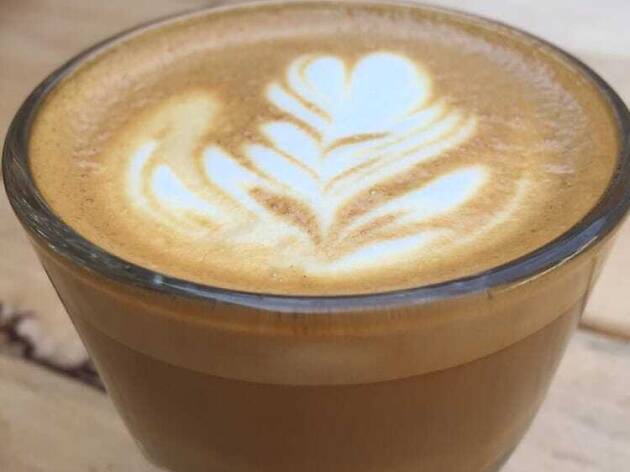 Photograph: Courtesy Yelp/Marie-Pier H.
Coffee buffs may notice this Rosemont café's name's nod to the standard amount of milk steamed into a creamy latte and choose to order accordingly. But cappuccinos, with their six-ounce pours, are also made to excellent measure. For the indecisive, the third-wave café hosts regular free all-you-can-sip tastings. Sweets from Patrice Pâtissier and savory sandwiches prepared by house chef Raphaël complement roasts from their coffee made by Portland's Tandem Roasters.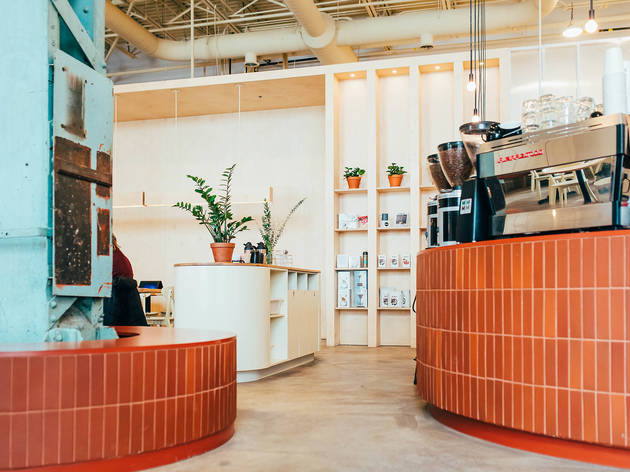 Photograph: Station W / @stationwangus
Although Station W's original Wellington Street location has been open since 2013, the opening of their new location in the up-and-coming Technopôle Angus neighbourhood has really turned some heads. The new space's dramatic, inviting architecture has people taking notice, and while the new outpost replicates the original's commitment to fresh ingredients, homemade baked goods, and killer coffee, it's managing to entice a whole new set of clientele that may not have ever made the trip to the original.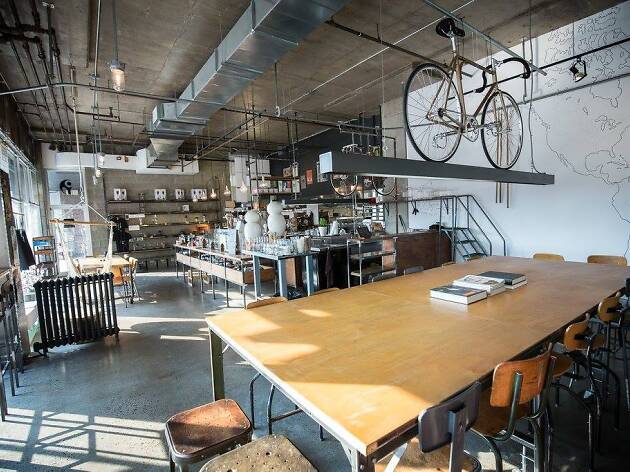 Photograph: Courtesy Café Le Falco
Co-owners Yuko Toda and Frederik Froument bring fair-trade siphon coffee and a taste of Japan to Mile End's industrial grey zone with their weekday-only café. With siphon-lined counters and bicycles hanging from exposed piping, this reclaimed warehouse space boasts a hipster-lab vibe that's been noticed by more than a few Instagrammers. Coffee and onigiri may not seem to go hand in hand, but their onigiri lunch combo that comes with housemade soup or salad will have you thinking otherwise.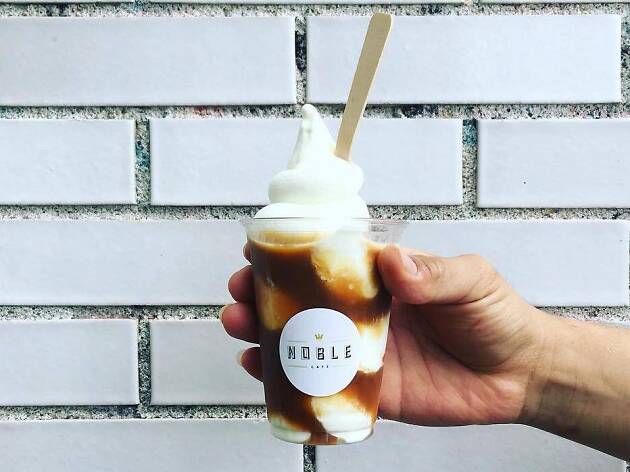 Photograph: Courtesy Noble Café
Small but mighty, this compact Plateau café squeezes roughly four seats indoors and eight on a patio that faces the Laurier metro station. The café keeps its footprint small with a steady rotation of eco-friendly roasters including New Zealand's Escape, Kittel and Phil & Sebastien. Treats are supplied by Arhoma bakery, and scoops of Les Givrés ice cream are available come summer. Introduced early this year, their Noble Stout—brewed by Vilain Brasseurs and infused with de Mello Palheto-roasted cold brew—is already stirring up a buzz.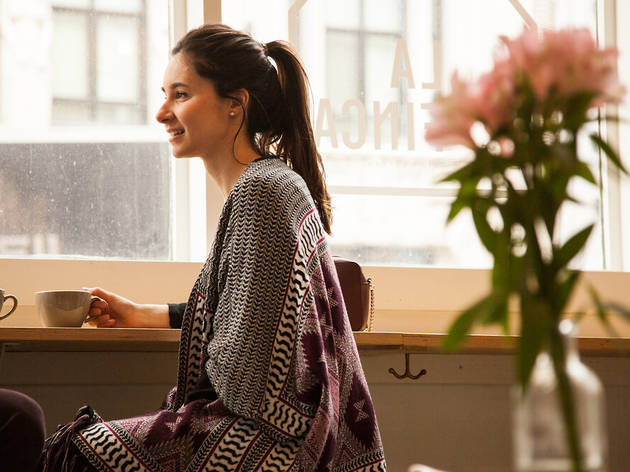 Photograph: La Finca Coffee & Office / lafinca.ca
21. La Finca Coffee & Office
Not all upper echelon coffee shops are fans of seeing all their patrons hang out for hours on their laptops. La Finca Coffee & Office not only tolerates its customers working on their laptops, but they actively encourage it. They serve thoughtful, well-made coffees from local roaster De Mello Palheta, and offer a range of tasty, sweet and savoury baked goods. There's a small outdoor space for nice weather when the shop gets full, and there's a private space for rent by the hour or by the day that is ideal for out-of-office meetings or collaborative work sessions.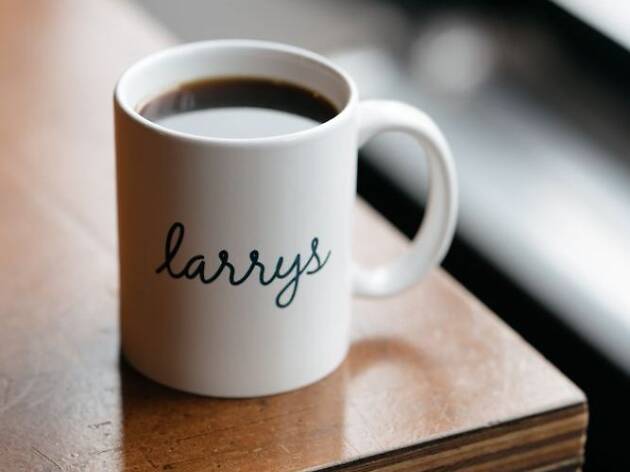 Photograph: Courtesy Yelp/Larrys
Little brother to Lawrence restaurant and its boucherie, Larry's may be better known for its refined fare, but its baristas pull a fine espresso too. Helmed by Myriade alum Keaton Ritchie and equipped with a La Marzocco Linea espresso machine, the coffee service at this Mile End hole-in-the-wall favors distinctive blends from the likes of Portland's Heart Coffee Roasters. Tempt taste buds early with Larry's elevated take on a sausage and egg breakfast sandwich, or swing by later for beef tartare and the resto's specialty Ghost Farm IPA.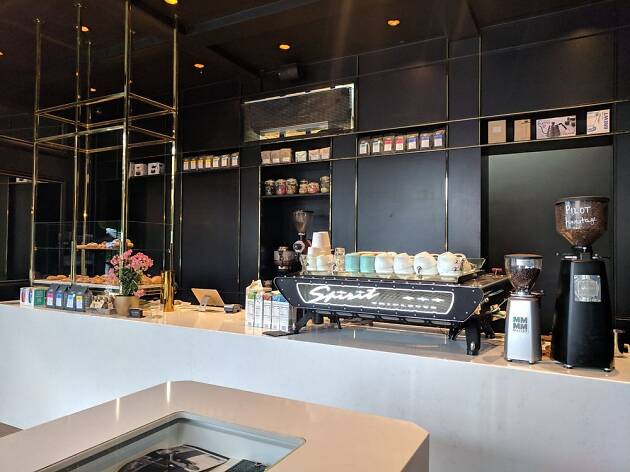 Photograph: Courtesy Yelp/Seif Z.
As the name suggests, this Westmount hotspot set an early standard for fourth-wave coffee in Montreal. Roasters are on regular rotation, but the café's commitment to single-origin beans keeps the bar high and gilded—literally and figuratively. Dark walls, plush seating, and gold trimmings bring a lux touch to the small space. It's not all about the noir here, however. Think pink: Beetroot lattes and a rosebud white tea are among the rosy alternatives for the over-caffeinated or caffeine-free inclined.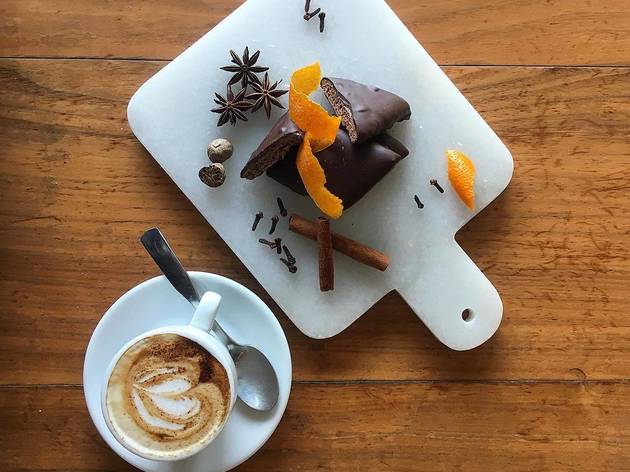 Photograph: Café Dei Campi / @cafedeicampi
The stuff of dreams for vegetarians and vegans, Café Dei Campi is the collaborative project of barista Nicola Vardaro (previously of Caffè San Simeon) and pastry chef Isabelle Duchamps (previously of Toqué!). Since opening in 2016, it has slowly been gaining traction, and vegans, vegetarians, and carnivores from all over town are starting to frequent this unassuming Rosemont neighbourhood café for its almost-too-good-to-be-true vegan baked goods and rock-solid coffee program.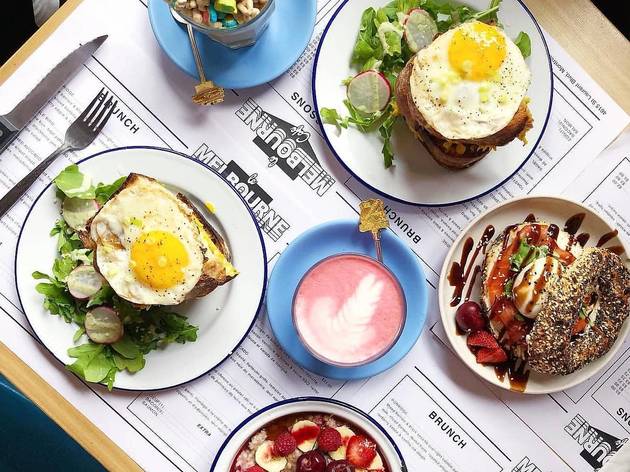 Photograph: Café Melbourne / @melbcafe
Montreal is a long way from Australia, and apart from one or two outliers, there aren't a lot of Australian inspired luminaries amongst Montreal's food and drink scene. Café Melbourne, though, is just one such outlier, and its serious coffee game and consistently good brunch contribute to making the Plateau a sunnier place—at least in spirit. Heck, they even roast their own coffee beans. Something very few Montreal cafés can boast.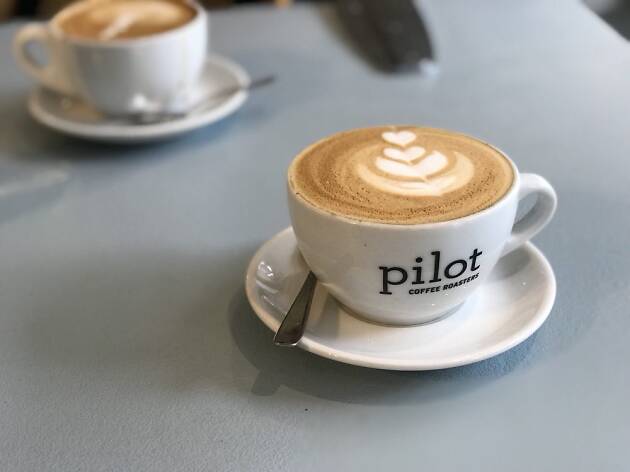 Photograph: Courtesy Yelp/Gonart L.
Catering to the Village and UQAM student crowds, this third-wave espresso bar specializes in Aeropressed concoctions. Single-origin roasts prevail, and vegan-friendly options like the signature lattes with almond-coconut milk abound in this checker-floored café. While there, try a Blume super-food latte. Made in Vancouver, these caffeine-free blends come in turmeric, matcha and beetroot flavours and add a punch of colour to the team's famed latte-art creations.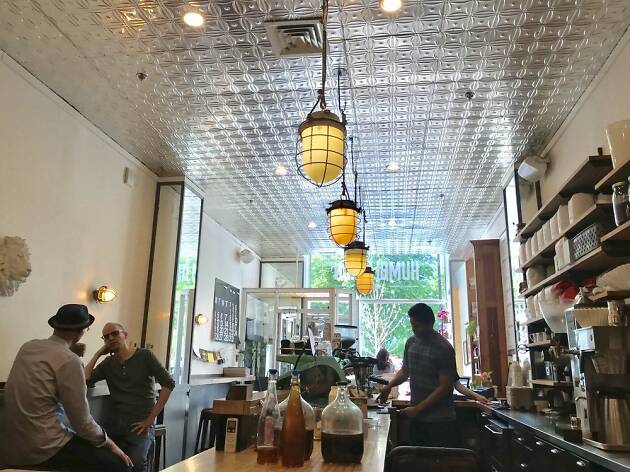 Photograph: Courtesy Yelp/Gonart L.
A different specialty brewer takes center stage every month at this hip café's two downtown locations. Ask the barista for their take on tasting notes as they pull espressos on the turquoise La Marzocco Strada EP espresso machine or prepare coffees with the pour-over technique. A not-so-humble entourage of scones, croissants, and tarts provided by Hof Kelsten and Godley Gourmandises round out the café's offerings. If that's not enough sweetness, the maple latte packs both a sugar rush and java jolt into a single cup.
Photograph: Tommy Café / tommymontreal.com
Now with two locations in Old Montreal, Tommy Café + Apéro combines a contemporary coffee program, a light breakfast and brunch menu, mid-century modern furnishings, and old-world architectural notes to create a bright, upscale neighbourhood coffee shop environment. Tommy Café works well for a quick coffee while you're touring the Old Port, a relaxing afternoon drink, or even as a potential space for an upcoming event. World's your oyster at either location.